Sebastian's Tokyo Coffee Guide 2018
This is a post about coffee shops I found interesting. I am a medium-weight hobby coffee aficionado and always make a point out of visiting exciting coffee shops when I travel. I have a trusty V60 at home that I make my coffee with, and I enjoy both light and dark roasts (and both drip coffee and espresso). But my interest in coffee doesn't stop there. I think coffee shops have the potential to create inspiring spaces for people to co-exist and convalesce within. Luckily, Tokyo has a lot of those places!
I consciously focus on coffee shops that are a part of the worn-out "third wave" concept, that sell single-origin beans and favour drip coffee. But I don't want to replace the writings of the many people who are more knowledgeable than me when it comes to coffee. I want to provide a holistic perspective that looks at the overall experience – that appreciates the space just as much as the drink. 
Great coffee is getting easier and easier to come across, and so it becomes increasingly important to find other ways to add value. I think it's important to highlight the whole picture and tell a story about the places that stand out in more ways than the coffee awards they've won. This doesn't mean that I don't look at coffee quality, but it means that I help you sift through an increasingly competitive coffee landscape to find the gems that succeed in more ways than just the coffee they serve.
When I visit a coffee shop, there are a few things I tend to look for, which become factors of judgment. These are a) originality, b) service and attitude, c) craftsmanship and d) vibe and aesthetics. And it definitely adds to the overall picture if one can feel a dedication to quality and beans.
♕ = Excellence in Coffee
☀ = Excellence in Vibe
⚡ = Limited seating
☕ = Sebastian's Choice
Tokyo – Overview
Fuglen ☆☆☆☆☆♕☀☕
Chatei Hatou ☆☆☆☆☆♕☀☕
Koffee Mameya ☆☆☆☆♕☕⚡
Deus Ex Machina ☆☆☆☆☀☕
Bongen ☆☆☆☆⚡
Verve Coffee Roastery Shinjuku ☆☆☆♕⚡
Roastery by Nozy ☆☆☆♕
Glitch Coffee ☆☆☆♕
Light Up Coffee Kichijoji ☆☆☆♕
Arise Coffee Entangle ☆☆☆♕
Allpress Espresso ☆☆☆♕
Mojo Coffee Harajuku ☆☆☆♕
Onibus Nakameguro ☆☆☆♕
Barney's Café by Mi Cafeto Premier ☆☆☆♕⚡
Verve Coffee Roastery Shinjuku ☆☆☆♕⚡
Café Kitsuné ☆☆
The Monocle Café ☆☆
Streamer Coffee Nakameguro ☆☆
Tokyo
Roastery by Nozy ☆☆☆♕
Nozy reminded me a lot of %Arabica in Kyoto (scroll down for review) but instead of a bright and fresh interior, they've opted for a dim, industrial punk, hipster feeling. You can get an espresso-based drink at the front, and it won't disappoint, or a drip coffee at the back. It's easy to see why this coffee shop is popular and highly rated, but when you place it on a starting field with everything else Tokyo has to offer, it fails to be remarkable. Great single-origin coffee, renown (good for that Insta tag you're looking for), a modern industrial interior, but ultimately nothing beyond what we've seen before. There's a lot of places that roast their own coffee in a modern environment these days.
Fuglen ☆☆☆☆☆♕☀☕
As a traveling Swede I was distraught to learn that the Norwegians made it to Tokyo before us. However, due to critical acclaim, I was unable to resist a visit to Fuglen ("The Bird"). And I don't regret it for a second. The vintage-cool interior is a very pleasant environment to enjoy a coffee or daytime cocktail in. The friendly staff and feeling just suck you in, and you feel like you've been teleported to the 60's. The service is good, the coffee is great and roasted locally – and the style really sets them apart.
Fuglen, unexpectedly so, also offers free WiFi, and it's not uncommon for people to settle down by the big windows and get some work done on laptops.
Chatei Hatou ☆☆☆☆☆♕☀☕
I heard that Chatei Hatou had been mentioned in some kind of Blue Bottle Coffee book, and while I hadn't read it myself, it definitely tickled my curiosity. Chatei Hatou offers a coffee experience that looks past the de facto modern geekery in favor of a timeless sprezzatura. The baristas are dressed in shirt and tie, the atmosphere is toned-down and feels luxurious with its dark wood floors and iconic indoor tree. I asked for the house blend and was served one of the most enjoyable cups of coffee I've ever had. Although the service is a bit on the frosty side, particularly when compared to a level Japan easily spoils you with, that's also part of the charm in a bizarre, self-reductive way. It's worth noting that I enjoy both light and dark roasts, lately favouring slightly darker ones. This one was a very nice medium-dark roast that had been brewed with professional dedication and focus you rarely see in other, busy modern coffee shops. To my right, a younger guy was repeatedly sifting through coffee beans on a silver tray and throwing away any that didn't make the cut. This is a must-visit – the cake looked pretty good too!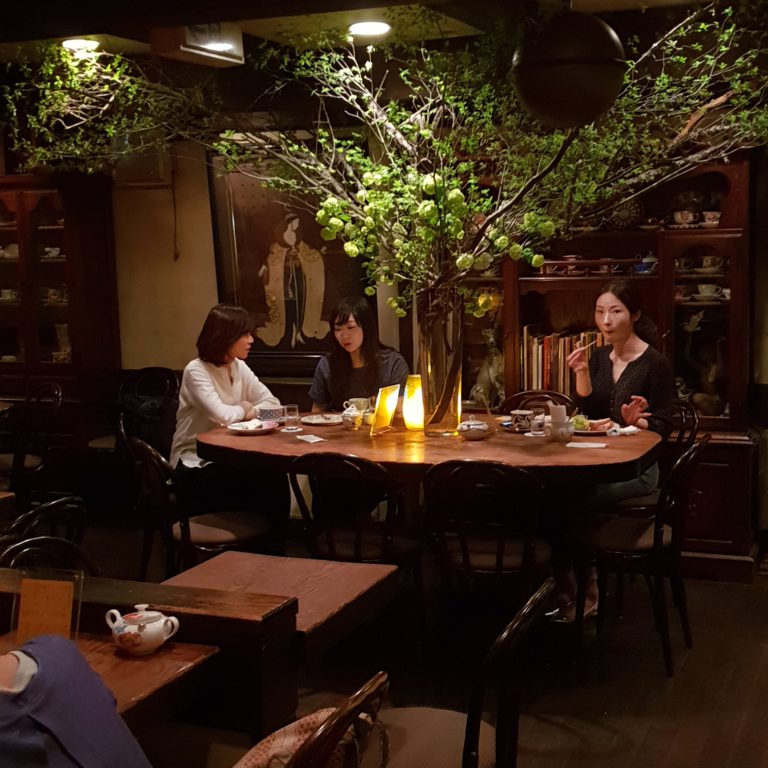 The Monocle Café ☆☆
I am an avid reader of The Monocle Magazine and visiting their café in Tokyo was something I'd been excited about for a long time. If you are also a fan, you'll appreciate the recognizable wood interior and merchandise being sold in connection with the café. It's a great little oasis with power plugs for your laptop if you need to do some on-the-go work. The Monocle Café isn't refined or geeky enough to contend with the best of the best when it comes to coffee, but it's worth a mention and visit if you're a fan of the magazine. I bought a little Monocle-branded money pouch here and returned twice.
Arise Coffee Entangle ☆☆☆♕
Arise Coffee Entangle is a casual coffee shop where they serve up some interesting single-origin beans from places you might not be used to (like Thailand, India, Myanmar). They only do drip coffee and cold brew.  Entangle is the second, larger location of two – the original shop is only a few blocks east, but very small and difficult to truly enjoy your coffee in. While the ambiance isn't remarkable in the least, decorations being somewhat random "anything goes", I enjoyed the service and an incredible cake which combined creme brulée and chocolate sponge.
Allpress Espresso ☆☆☆♕
Allpress Espresso, on the whole, and rather cynically speaking, is a dime-a-dozen third-wave coffee shop by an Australian chain, that serves great coffee. The interior design idea of imitating the lumberyard that used to be on the spot before stands out, and so also their very cool-looking roasting machine in the back. The coffee shop actually extends back to the roastery so that you can enjoy your coffee right next to the machine, where they also roast their beans. This is an espresso shop (and roastery), so come here expecting espresso-based drinks. Go for a flat white. A barista over at Arise Coffee Entangle indicated that there'd be a Swedish guy working here, but it was too busy so I couldn't really ask!
Mojo Coffee Harajuku ☆☆☆♕
Mojo Coffee is located right in the middle of Harajuku, but in a quiet street shielding it from most of the crowd noise. When you walk in, you immediately see that they know their stuff. They offer several single-origin options and have a relatively unusual card up their sleeve: nitrogen-infused cold brew. For those of you who haven't tried it before, it's basically like micro-bubble carbonated, cold coffee, and may remind you of a dark stout. The atmosphere at Mojo is nothing outside of the ordinary, it's interior giving a rather bland 2000's Starbucks 1.5-vibe, but it's well worth a visit to enjoy a great cup of coffee if you're in the area, possibly even the nitrogen cold brew.
Koffee Mameya ☆☆☆☆♕☕⚡
Koffee Mameya is a rare beast. It was originally the location of another concept called Omotesando Koffee, by the same owner, and recently opened up with the idea to sell coffee with beans from the best roasters around the world. It's quite difficult to find if you don't know about it and is located relatively far away from the bustle of the shopping streets. When you enter, it feels like you've uncovered a secret lair of some sort. Even so, a long line trailed out onto the street when I left, after I'd enjoyed my gesha drip. Mameya's concept is unique, or at least it feels unique when you enter. The coffee bar is tiny and offers no seating, so you better be prepared to stand up and drink after having queued to get in (if you're lucky there won't be any queue when you get there – I was). The staff is exceptionally friendly and knowledgeable, and they certainly don't mind having a chat about the coffee they serve. They serve many different types of drip coffee from beans from local roasters. They also have a helpful chart that helps you pinpoint roasting level. Worth a visit for the fun concept, amazing coffee and great service. A guy who was behind me in line had been back 14 times during a 3-week trip. He'd counted. According to Monocle's Tokyo guide, there's a free workshop to join after 18.00 every weekday if you've bought beans.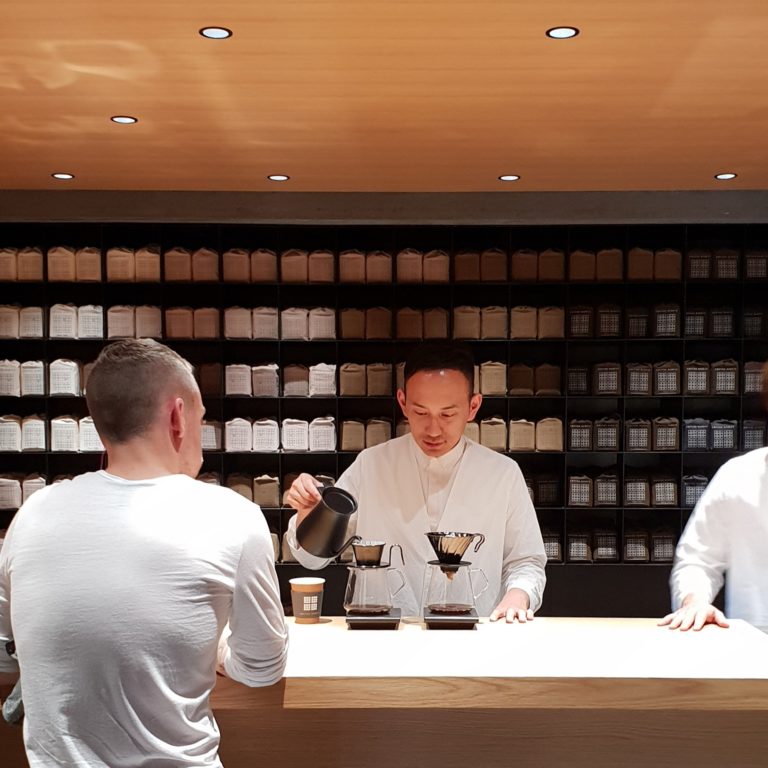 Verve Coffee Roastery Shinjuku ☆☆☆♕⚡
There's certainly a trend of American chains spreading their tentacles to Japan. Just look at the recent expansion of Shake Shack and Blue Bottle Coffee to understand what I mean. Verve is another Californian coffee roastery/shop. I visited their location at Shinjuku station. The location is busy and there's no proper table to sit by. Instead, coffee drinkers are bundled off to bar stools along the windows. The coffee is great, however, and the staff was friendly although, possibly due to language barrier, a bit confused when taking my order. Their chocolate/pistachio cake is to die for. If you're okay with the busy environment it's well worth a visit.
Onibus Nakameguro ☆☆☆♕
Located in a back alley, unless you know about it, Onibus in Nakameguro isn't very easy to find. However, when you do find it, you're welcomed by a cute, friendly little shop that offers seating upstairs. They have a roasting machine right behind the window till wherefrom they serve their coffee. When I visited, they only offered light roasted beans, which was a bit of a disappointment as I wanted to try something more medium, but the drip was still very good (I had a bean from Rwanda). Overall, I didn't feel Onibus offered anything remarkable in Tokyo's competitive landscape, but their coffee is definitely on-par with what can be expected of a third wave leader.
Streamer Coffee Nakameguro ☆☆
This relatively small chain of coffee shops has received a lot of attention in Japan since it was founded by Hiroshi Sawada, a renowned barista. Reports indicate that you may even be able to run into him sometimes, especially in the Shibuya location. Other than that, Streamer is a very standard third wave coffee concept. Their locations don't stand out visually, with a retro-skater/Starbucksy interior, and they don't stand out with their coffee either. It's a pretty nice alternative to have, and if you run into a Streamer when wandering around Tokyo, don't hesitate to give it a try. But maybe don't go looking for one.
It's worth mentioning that Streamer usually offers free WiFi, and there's often seating available. Good spot for getting some laptop work done!
Café Kitsuné ☆☆
This is a cute little café that belongs to the famous fashion brand Maison Kitsuné (a great label!). The space itself is beautifully decorated but feels a bit caveish. The coffee is good and they sell their own blend in branded packages, but it's not a third wave contender in any form or way. The selection of sweets to have with the coffee is poor and their quality is moderate. I would recommend stopping by if you're a fan of the brand, but otherwise there's a lot of other very competitive options for coffee and cake in Tokyo.
Barney's Café by Mi Cafeto Premier ☆☆☆♕
Everybody knows Barney's New York – fewer know that their Roppongi store houses an excellent coffee pitstop. The coffee bar is located on the 2nd floor of Barney's – run by the established coffee company Mi Cafeto who also cooperate with companies such as Japan Airlines and MUJI on providing coffee. The coffee bar at Barney's has an exclusive aura, as can be expected from its rather premium surrounding. There's plenty of choice, too, both Barney's-branded blends and single-origin options. The service is impeccable and the quality feels high. By the way, don't get put off by all the wine bottles sprinkled around the bar – most of them contain coffee beans. Stop by if you're out shopping and don't mind spending Barney's level money.
Deus Ex Machina ☆☆☆☆☀☕
Spread over three floors, Deus Ex Machina is more than first meets the eyes. There's a bar in the basement and a shop on the second floor – and seemingly they've been able to build an active community around the place (regular yoga sessions is an example of that). The strong sides of Deus are the atmosphere and service. They have a resident DJ (can be seen talking on a purple phone of some sort in the photos below) and a general vibe that screams motorcycles, black leather and cool funk. The coffee is okay and they're going big on home-made lemonade and a few select alcoholic concoctions.
Not recommended if you're looking for a quiet, slow place. Recommended if you want to suck up the vibe of trendy Tokyo.
Light Up Coffee ☆☆☆♕
Light Up has more than one location, and I visited their outlier – in Kichijoji. Light Up has a standard, modern feel to it. It's bright, fresh and almost a bit romantically seaside-y. The one thing that makes them stand out, aside from generally very good coffee, is their tasting set of 3 different coffee beans.
Glitch Coffee ☆☆☆♕
I wouldn't be surprised if someone told me that Glitch is in a perpetual state of busy-ness. It's a trendy, modern, all-boxes-checked representation of the third-wave Tokyo coffee scene. The experience is further improved by the enormous coffee roasting machine they have right in the shop, emanating a pleasant aroma of newly roasted beans.
Service is exceptional, coffee is exceptional, the atmosphere is okay – but there's not much to be found in terms of originality. I highly recommend visiting Glitch if you're in the area, but don't necessarily travel across Tokyo for it.
Bongen ☆☆☆☆⚡
To me, there's something quite interesting with innovative aesthetics, even if a coffee shop doesn't have the space or funds to invest in a whole roasting ecosystem. Bongen doesn't roast beans themselves but still boasts an interesting selection – including the nowadays rare kopi luwak bean. If you're willing to take a bet on the ethical sourcing of the bean, and the fact that it's come out of a feline's butt, I highly recommend spending 1900 yen on a cup – even if it's steep.
The space occupied by the shop is tiny, and there's barely any seats, so it's more of a place you pop in and out of – coffee is only served "to go". The central aesthetic element is a bonsai tree, which perfectly contributes to a sense of calm and the interior's minimalism.
Blue Bottle Roppongi ☆☆☆
Blue Bottle Shiyosumi Kirasawa ☆☆☆
Blue Bottle Shinjuku ☆☆
Kyoto
Yes, yes – this was supposed to be a Tokyo guide! But hear me out. Most people going to Tokyo will also be going to Kyoto, especially if they're tourists like myself. And it's worth it, in every sense. To me, Kyoto, because of the tourism catalyst, has become a second brewing pot in Japan, creating all sorts of great things – including coffee.
%Arabica Higashiyama ☆☆☆☆♕⚡
Arabica is a super popular place with long lines leading out to the street during the more busy times of the day. I visited their locations in Higashiyama and Fujii Daimaru. The coffee is great and they have an impressive selection of limited supply Ninety Plus beans. The place looks as you would expect from a modern hipstery coffee shop and this is by all measures positive: it's fresh and modern. However as it tends to get very busy, the experience you're bound to have will probably not be a 5/5 every time, simply because of all the people. Arabica, for me, has fantastic quality and finish when it comes to the coffee, but the overall picture just doesn't justify top score.
Vermillion ☆☆☆☆☆☀☕
Hidden away in an area popular with tourists, yet paradoxically quiet, is this fantastic gem. The ambiance in the shop is one of the best I've ever experienced and the coffee plays its part – even if they don't roast it themselves or have quite the geeky selection of some of their competitors. Enjoy a meeting between green nature and industrial interior design with great coffee and service.
Blue Bottle Kyoto ☆☆☆☀
Blue Bottle is Blue Bottle regardless of where you go, but it's an international competitor that maintains high level of quality both in barista delivery and aesthetics. The Kyoto Blue Bottle is remarkable because of the building it occupies: an immersing fusion of classic Japanese architecture and futurism. It does tend to get extremely busy however during tourist season, so it's possible there'll be a line.   
Nagasaki
Just throwing Nagasaki and Okayama in here as a bonus!
Hayama Coffee ☆☆
Nagasaki is a smaller city by Japanese standards and so it comes as no surprise that the coffee availability is a little bit more limited, too. Sure, you'll find a Starbucks and Seattle's Best, and even a few interesting cafés, but Hayama Coffee was the only place I was able to find that really stood out as semi-third wave. There also a second noteworthy mention called Tsuru's Coffee, which was sort of a shop/café hybrid.
Hayama had a few different roasts available, and it's a good place for a drip coffee fix, albeit not of the lightly roasted variety. Don't hope for anything noteworthy when it comes to the coffee – it's good but unremarkable. In terms of goodies to eat – everything they have is prepackaged and underwhelming.
Okayama
Onsaya Coffee ☆☆♕
Onsaya was frequently referenced by locals, and a nearby hostel – Kamp – also serves Onsaya's coffee. They roast it on-location and have a two-floor coffee shop where the second floor is smoking only. Options were fair, coffee tasted good and decoration was motley but vintage cool. I was however very put-off by the smoking floor, and in terms of goodies – I had a dry cookie that didn't really impress.
People ☆
The two owners of People are absolutely fantastic. They're service-minded, smiling and make you feel right at home. The coffee shop has been around for almost 50 years if I remember correctly. Cozy little place that, while it indeed feels like entering someone's home, serves unremarkable coffee and very normal froyo.